cheesy nipples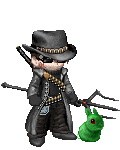 Registered: 03/30/2004
Gender: Male
Location: put it this way.... Don't look behind the couch.
Equipped List
Interest Tags
Favorite Movies/Anime
Favorite TV Shows
Favorite Reads
Favorite Music/Bands
Hobbies/Interests
Wish List
About
Names Cheesy Nipples, most people call me Nips.

I'm not here much lately, and if I am here I tend to stay in my guilds. If by chance you manage to find me, Well Done.

I'm not rich on here,I don't have a lot of items and I'm not trading anything that I don't have in the marketplace. So Don't ask.

Signature
I have seen the light...
Decided it was too bright and turned it off