Cheerfully Morbid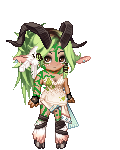 About
This is where you are likely to find me.


The gal wearin the boots.
Only the few I deem worthy know my true name. I do have many nicknames that have emerged over the years. I am likely older than you. I live out in the country an don't care for the city much. In a world of squares an circles, I prefer to be a hexagon. I tend to be anti-social, an when I do speak I can be heartless an odd at times. Lately I've become more of a lurker an a recluse. Don't take to heart if you don't hear from me from extended periods of time. I'm not very girly, an not much you say will bother me. I do not take kindly to people upsetting those I care about. If you choose to do thus, or find some other way to annoy me, heed a warning. I tend to hold grudges an have a nasty temper.
Anything ye be wishing to know in more detail, just ask.
I don't usually bite that hard.
Friends
Viewing 12 of 41 friends