About
Hello.
I came into this world on: February 10th, 1992
That makes Me 21 years young.
The name I was given at birth is: Sadee-Marie
This is me
I gave birth to an amazing little boy on December 11th, 2010. I named him Jayden.
I'm 5'7"
Brown eyes
Brunett
[I dye my hair a lot]
I love piercings & tattoos.
[-I have snake bites-
-I have two tattoo so far-
I am bisexual.
I'm to nice sometimes.
I can be fun.
I am very mature even though i may not act like it at all times.
I miss being a kid...
I love random PMs, so pm me?
]
Some things I like:
Make-up
bright colors
Halloween
CUPCAKES!
Zebras
MUSIC
Guitar Hero
Alice: Madness Returns
Coloring
Hair dye
Piercings
Tattoos
Random PM's
Razor blades
Skeleton keys
Skulls
BRASS KNUCKLES
Dinosaurs
Robots
Fairys
Skull Candy head phones
Hello kitty
Chococat
yo gabba gabba
converses
osirus shoes
Some things i dislike:
Liars
Cheaters
Posers
Fakes
Hypocrites
most Country
Whip Cream
Bananas
Animal Abusers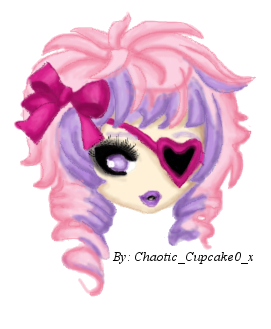 Friends
Viewing 12 of 103 friends
Journal
Blah
Avi Art, Drawings, Photos, Photography, Random things
Multimedia