About me
Hello there~
I'm

chai fae

, but my real name is Stephanie. I love art and books, tea and coffee, pokemon, cookies and ice cream. I'm an artist, trained traditionally but moving to digital media. I'd love to someday work on video games (I already have, but they've never been published anywhere). I'm also working on writing my own book, but the progress is so slow.

I'm always up for an RP, let me know if you have one.

Chat with me through PMs, comments, or the forums if you'd like to get to know me more.





And here we come to the section of my profile where I thank all those who were generous to give me gifts.



Thanks to the following people I was able to get my staff!!
I couldn't have done it without your generous help!

August Star Of Heaven
amarzyciel
Usagi_Shiro
CHlMES
Viviette Valentine

Thanks so much GCD Fairy anon for the Rosamund's Revenge! The poem was lovely~
Thank you Insane Grace for the gift of a Final Line bundle!
Thanks "anonymous benefactor" (I know who you are, wonderful friend!) for the gift of Polar Tear and Chill of Artemis!
Thanks Ami Satomora for the Monthly Collectible Letter for September 2013!
Thanks Lapine Lequesne for the gift of 100k!
Thank you Pfefferminze for the Monthly Collectible Letter for January 2013!
Thank you Code of Princess for the Monthly Collectible Letter for December 2012!

And lastly, thanks to anyone else, anon or otherwise, that has given me a gift in all the years I've been on Gaia. I'm not the best at keeping records, but if this applies to you, I wanted to let you know that your gift is very much appreciated~

chai fae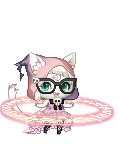 Registered: 06/23/2005
Gender: Animal
Birthday: 07/05
Equipped List