My dream avi
Why should we help Japan? Well...

1. To piss off everyone who think we shouldn't help them.
2. They are one of America's biggest allies.
3. Just to prove to everyone that haters really don't like Anime/manga and shouldn't be on gaia.
and 4. Just because we're better than retards who sit around and watch things happen and do nothing about it. That's what you call an a*****e!
Evil has a name and it shall be CROWE!
Yes evil does have a name. *nods nods* I'm a very hyper active person, in which I can not control that. Of corse as you already can see I am evil! I am known with many names with my friends. I love animals! I'm training to be a vet.. My hobbies include diving, horse back riding, YAOI, cosplaying, anime, etc. You'll find out more when you get to know me. I'm a full wiccan, I've been practicing it for about 8 years or more.
Crowe Lee 53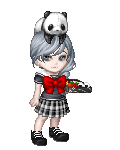 Last Login: 04/30/2012 1:24 pm
Registered: 11/03/2006
Gender: Female