Celestine Ravencroft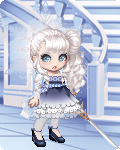 @_@ I'll Never Get All This Stuff
Journal- Hey! Who said you could read this? Oh right, me. XD
A Look Inside...
Some stories, poems, song lyrics, art, and random thoughts.
Classically Me
Art by Sonpi-Chan
Barton Crystalmancer/Soul Priestess
Please Bump My Glow!
What You Should Know
Come on in. The profile may be crowded, but at least it is organized. The lack of a friend list on my profile can be easily explained: all the avatars around my profile ARE my friends. I just took a different route to displaying my friend list. My pals make some really interesting avatars, so I like to see all their unique creations. Most of these people are from Barton's Fort of Athletes and Artists, a guild formed during the 2012 Rejected Olympics.

Now then, all that really needs to be said about me is that I quest items and sell Towns junk to help with my quests. You've got a better chance of being added to my friend list if you are a member of BFAA. I also do avi art with that old fashioned stuff called pencil and paper. To that end, if I feel an avatar is too complicated I.E. too much layering or way too many items, I will not draw it or I will ask you to simplify that avatar.
The number one thing to remember is:



I LOVE HOGAN'S HEROES!!!



It is the greatest TV show of all time, in my humble opinion.
Don't let the avatar fool you! Part of the time I cosplay my other OC, Caelen Evernight. Mostly I'll be my main OC (username). I AM a girl, but I like to cosplay both of my OCs, especially since they're like two Turtle Doves.
Direct Link to my Tank Bumping Thread!
Link to My Marketplace store:
Diamond Angel Emporium
Current Marketplace Quest Item
Current Cash Shop Quest Item
Sainte Ciel: Thanatos

gifted by Cree

La Belle Chanteuse
bought
Adamant Vault

gifted by Yuusha Asagi


Chrysanthe's Fountain
Tale of Clarion

Red

Ink


Blue

Ink


Green

Ink
Black Ink


White

Ink
Bugs that craft the above listed inks
My Little Distractions
Favorite Movies/Anime
Favorite TV Shows
Favorite Reads
Favorite Music/Bands
Hobbies/Interests
My Aquarium: Feel free to play Booty Grab, and please bump my thread!