About


as you can tell that i am in to anime. aslo in my spare time i tend to draw anime pics for fun. i am a 19 yr old college student going for GSP (gaming and simulation programing) (make video games and that line of work o_o) well anywhy i can seem to make any friends cause it seems that my past comes back to haunt me in the end. but that is a different story. but besides that i am a emo- random- anime - manga- person. oh ya i almost forget to tell you peoples that i am single..... and that i am bi.
the animes that are my-all-time favorites (and will be ontill the end of time) are:
1. fullmetal alchemist
2. kyou kara moah!
3. black cat
4. loveless
5. shaman king
6. code geass
7. beyblade
















everyone do the günter dance.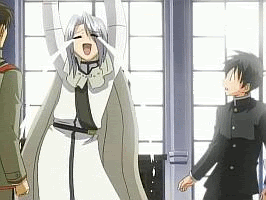 if you can dodge a wrench you can dodge a ball.....

ya you failed.....
beware of lt. hawkeye's dog army:
i guess some one forgot to tell ed and al...... <_<
here is the dream avatar that I really want:
the items that are left in the list below is what i need to get:
and also donations and gift giving is greatly happy for me and you will be my new friend.
Total Value: 666,612 Gold
After Exclusions: 644,551 Gold
[Item Information]
Item List:
Scar of the Warrior
Gimpi 7th gen.
Fallen Wish 2nd Gen.
Gimpi
Friends
Viewing 12 of 116 friends
Journal
where the darkness that is in my heart may be set free.....
Multimedia
Signature
"I was dead until the moment I met you. I was powerless corpse pretending to be alive. Living with power, without power, without the power to change course, was akin to a slow death."