CBX Chen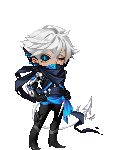 About

Click here to view my avi art!

Thank you, Gaia, for featuring my avi here for the week of 9/4/12!

You can find me mainly on League of Legends as CBX Chen and Valoreth, and on Tumblr as resident-revenant.

Hello, and welcome to my profile~ I've been on Gaia since 2006 on various accounts and with countless usernames because I'm indecisive like that.



The person behind the avi:





• So, I'm a girl,

but I often have a male avi, and I prefer getting male avi art~.



• I'm currently 24 years old.





• I'm Korean

but very Americanized, as I was born in Korea yet raised in the U.S. If you try to speak to me in another language other than English, I probably won't understand you. OTL



Likes:


Playing the piano and cello, singing, writing, reading books and fanfiction, drawing, watching anime, and playing video games.
Music (I really don't think I could live without my iPod!) - mainly Japanese and Korean music, rock and electronic, video game soundtracks, and Vocaloid songs.
Rice, noodles, tea, and anything sugary. I'm very lazy and I eat way too much, which always makes me wonder how I'm not extremely overweight by now.
I also love EXO's Chen... Like, way too much.



Dislikes:


I dislike rudeness, arrogance, loneliness, cigarette smoke and fumes, work, and I have a weird aversion to armpit hair. There are also a ton of other things that I'm too lazy to type out.
Feel free to stop by and comment/PM me~ I do like actually talking to people before I add them, so no random friend requests, please.

Want to draw me? Just PM/comment me about it. I'm always looking for more nice avi art!

---------------------


Many thanks to these kind donators:


• JokaNeko - 25k!
• w0nd3r_k - Biancamella!!
• I Cross l - Cerynitian's Blessing and SDPlus Pale Marionette Doll?! Thank you so, so, sooooo much!
Multimedia
Signature
[center:6ead5fdcc1][b:6ead5fdcc1][i:6ead5fdcc1]Draw for me~? (PM for details)[/i:6ead5fdcc1][/color:6ead5fdcc1][/size:6ead5fdcc1][/b:6ead5fdcc1]
[img:6ead5fdcc1]http://i1050.photobucket.com/albums/s408/Shinmetorii/b8ac1d06-dcca-4f83-b68d-b4aca00f674e_zpsgbo7ypx7.png[/img:6ead5fdcc1][/center:6ead5fdcc1]