About
A girl asked her boyfreind if he thought she was pretty.
He said NO

She asked if he liked her.
He said NO

She asked if he would cry if she left him.
He said NO


As the girl walked away, tears streaming down her face, her boyfreind grabbed her arm and said:


"I dont think you're pretty, I think you're beautiful."

"I dont like you, I love you."

"I wouldn't cry if you left me, I'd die..."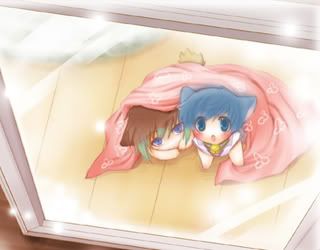 left=Perrin right=Cassie
father & loving ex-husband: shoodoo
my 5-year-old:
Kiyanra
shes adopted

Elayne, last child from shoodoo
Samantha ((EbGirl))
shes adopted too!!!

She is 3 years old!!
And Jessica ((Cirau))
Adopted also! shes 15!
my kitties name is Trixie!!!

and her mother is Sarah Faye

Follow the Wiccan Rede you must
In perfect love and perfect trust
eight words the rede fulfill
An' It Harm None, Do What Ye Will.
What ye sends comes back to thee
so ever mind the law of three
keep this in your mind and heart
Merry Ye Meet, And Merry Ye Part.
Friends
Viewing 12 of 132 friends
Multimedia
Signature


Shakugan No Shana; Joint
rpc^
Name: Amirylla ((Amy)) Maehara
Age: 21