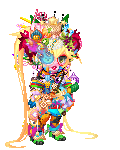 My name is Prince. I live in Norway at the moment.

I love physics, but I cannot say the same for physical education.

I love reading, and I spend too much time reading horrible books.

I love cats, but I'm allergic to most of them.

I am sometimes called a nerd, but I don't wake up everyday to please every one.

I am pretty sure when I'm 40 I'll live alone with 32 cats in my apartment.

... I don't think there's anything wrong with it.



C o m m e n t
I n s t a g r a m
T u m b l r
G o o d R e a d s