About
You might have seen me on Gaia as a site moderator. I'm currently on a modding break. Because sometimes real life gets in the way of Gaia. If you need to contact a mod, PM a current one.
O HAI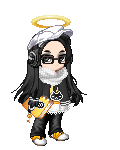 Last Login: 09/29/2015 1:28 pm
Registered: 01/13/2005
FORUMS
Posts per Day: 5.28
Total Posts: 20652
WHY ARE YOU PEEKING UNDER MY SKIRT?!
WISH LIST