Captivative Cat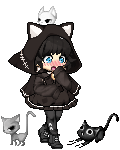 Registered: 09/03/2007
Gender: Female
Birthday: 01/30
Wish List
"Dream as if you'll live forever, live as if you'll die today."
Hello, I'm Sarah!
If you want to know me, feel free to strike up a conversation!
I'll pretend to be more interesting than I actually am.
I approve of quirkiness.
Cats are perfect.
I live for Theatre.
I am a BFA Acting Major in College.

That's all I've got for now, haha.
Leave me a Comment

?
✿
3/13/13
Always & Forever. ♥



CATS ARE GREAT.