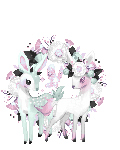 Behind the character...

I am a young

Elf

woman.
21 years of age.
Europe is my homeland.
Art is my life.

Still curious about me?
Don't be shy and befriend!
" I am Tauriel.
Captain of King Thranduil's Elven Guard within the Woodland Realm.
My bow and courage will help protect these lands and fight off evil...
For as long as I live. "
This is not just a Cosplay account, it is my main account.
I am in character only for role plays.
Warning: I

hate

Tauriel x Kili. My 'ship' is with Legolas!