CapnFunky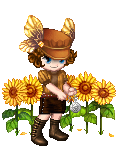 Last Login: 06/14/2015 9:30 pm
Registered: 12/11/2006
Gender: Female
Location: Beavercreek, OH
Equipped List
Interest Tags
Favorite Movies/Anime
Favorite TV Shows
Favorite Reads
Favorite Music/Bands
Hobbies/Interests
Wish List
About
Hello, I'm CapnFunky, but no need for formalities, just call me Funky.

I used to be Hylian_Medli, but I made that my username when I was thirteen-fourteen-ish, and it really doesn't fit me anymore.
I am nineteen, and will be twenty in January 12, 2013. I enjoy video games, anime, music, reading, writing, and needlefelting.

Occupation? Writer... kinda. >.> Working on a novel, and I plan to self-publish when I'm done.



I have an Xbox 360, and a gamecube. My brother let's me borrow his PS3 and Wii-U every once in awhile. I would purchase those consoles myself but... *Is broke*


I love playing MMOs so if you have one you'd like to suggest me to try, go for it! I prefer melee rather than FPS, though. The MMOs I play are as follows:
Vindictus: I'm CapnFunky on the US East Server.
Champions Online: Um... I forget whether I'm supposed to say my handle or my character's name >.>... My character's Miss Huggles.
Minecraft: FunkySpunk on the PC version

Also, for those of you going: "WTH is needlefelting...?" Not to worry, I get that alot. Needlefelting is where you take wool or other fibers and prod them with a barbed needle, the barbed needle gradually meshes the fibers together as you poke it, so you're able to sculpt the fibers into whatever shape you like. Here's a time lapse video of needlefelting if you'd like to get a better idea (No that's not me in the video). https://www.youtube.com/watch?v=S0ycwVZ4GOE

Feel free to PM me

Journal
All Aboard the Mental Conundrum
*Whisltes* ALL ABOARD CAPTAIN FUNKY's MENTAL ESCAPADES! *Beware, large amounts of exposure may cause extreme insanity, and/or *static* IT'S FINE. YOU WILL LIKE IT.
Signature
Step follows step,
Hope follows courage,
Set your face toward danger,
Set your heart on Victory.
-from the book "The Two Princesses of Bamarre"