Canis Baileyi Lupus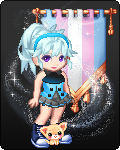 Last Login: 12/05/2016 11:53 pm
Gender: Female
Location: Central Florida
Birthday: 02/27/1993
Occupation: Cosplayer & Unpaid YouTuber
About Brandon
Hello. My name is Brandon. I am called Canis Baileyi Lupus online, though. I am many things. I am a domestic dog therian. I am a furry. I am a brony. I am genderfluid, so please say what you'd like about me. My preferred pronouns are he/him/his. Feed me and I'll love you
fur
ever.

I'm an avid cosplayer and amateur YouTuber and music video creator.

Sabrina Jean Flories died at 16 years 4 days on May 20th, 2009. Everyone misses her so very much.


Sabrina Jean Marie Herrera was born into this world on September 8th, 2010 and left this world at 2 years 6 months and 5 days old on March 14th, 2013. Mommy misses her so very much.

If you have any questions, please send me a message! Follow me on Tumblr, I'm on that a lot more than here.