Canis Baileyi Lupus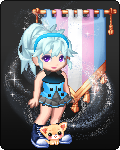 Last Login: 03/30/2015 6:00 pm
Gender: Female
Location: Central Florida
Birthday: 02/27/1993
Occupation: Cosplayer & Unpaid YouTuber
About
Hello. My name is Brandon. I am called Canis Baileyi Lupus online, though. I am many things. I am a domestic dog therian. I am a furry. I am a brony. I am genderfluid, so please say what you'd like about me. My preferred pronouns are he/him/his. Feed me and I'll love you
fur
ever.

I have an amazing and beautiful girlfriend who loves me. Her name is Claire. I met her on December 13, 2014 (but I thought I met her December 14, 2014) and she officially became my girlfriend on December 31, 2014.
I'm an avid cosplayer and amateur YouTuber and music video creator.

Sabrina Jean Flories died at 16 years 4 days on May 20th, 2009. Everyone misses her so very much.


Sabrina Jean Marie Herrera was born into this world on September 8th, 2010 and left this world at 2 years 6 months and 5 days old on March 14th, 2013. Mommy misses her so very much.

If you have any questions, please send me a message! Follow me on Tumblr, I'm on that a lot more than here.