Callie Blackwell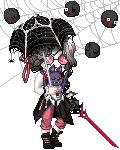 About

Salutations welcome to my profile. Call me Callie, a little bit about me, well I consider myself a little strange. Being home schooled I find myself online a lot, usually I have a tab open for Gaia as I browse the Internet doing other stuff. I really enjoy horror movies, preferably about killer dolls or creepy children, I really like things that are cute and incredibly dangerous at the same time. Mostly because they are cuddly. My free time is usually spent watching TV or movies that mostly function as background noise while I do other things like draw read or spend an hour and half lost in some silly little daydream. My favorite TV show is without a doubt South Park, my favorite book is Alice's Adventures In Wonderland and my favorite movie changes frequently but The Omen (1976), Spider Baby, and The Great Mouse Detective usually hover some where near the top.
One of my hobbies, although this one is more like an obsession is Magic The Gathering, I'm a decent player and hold the distinguished honor of being the only girl in my play group. It's fun to be geeky. If anyone out there wants to talk about cards or duel over PMs (it can be done, really I tried once.) Feel free to message me as I'm always looking to test my Saprolings against a new opponent.
On the subject of friend requests I would like an introductory Pm. Written in proper English, I loathe chatspeak. If you can't type a proper sentence then I really don't want to talk to you.
This is my Knuffel collection. I'm surprised they haven't died of starvation yet.












Friends
Viewing 12 of 143 friends