Cael Onyx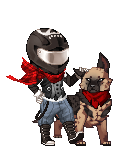 Details
Gender

Male

Birthday

10/12/1989
About
Hn, what to say..
First off, this is a new avatar, the old one got hacked, like many people I know. Unfortuantely I wasn't able to get my things back due to the fact it was someone I knew that took my stuff. -_-

So, I'm actually Cael Nevaros, but Onyx sounded way cooler. 21, I'm from Chiliwack, BC. Been on and off gaia for the better part of about 5 years. so yeaah..

Anyway,

I'm not taking any kind of art commisions/jobs at the moment, sorry.
I've been trying to clear my plate.



slots


::
::
::

Journal
the burning book
Signature
Alas, true knights are a dying breed..