Cadenza of the Heart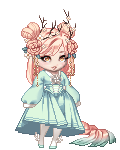 Details
Last Login

06/03/2015 1:22 am

Member Since

03/31/2010
Gender

Female

Birthday

09/28
---
Interests
About
I go by Cadenza mostly, but Denza is nice too.
And no, I did not get my username from My Little Pony, please do not ask that. I came up with it when I made this account which is before MLP:FIM even started.
Like everyone else on this site, I'm a little odd in my own way, but a good person all the same. If you like to chat, don't be afraid to send me a pm, I'll answer it, unless you are a rude creep.
I like to volunteer making crafts with kids, and I'm going to school to be a youth councilor. In my free time I play Animal Crossing, Pokemon, Kingdom Hearts, Left 4 Dead, and Skyrim. I also really love to make things. I make jewelry and little stuffed animals, and sometimes I make other things too. My current tv addiction is Buffy, been making my way through it for a month now. Other shows I love are Doctor Who, Elementary, Supernatural, and Adventure Time. Oh yeah and sometimes I draw but it's not all that great.
Best to quote me in the forums if you want a reply, or else I won't know you're talking to me.
Random donations/gifts are always very appreciated

Friends
Viewing 12 of 33 friends
Signature
the veil smells like arse here



official child of braintopia and SketchArtistMarie
sibling of RedneckAriel and Attolis