CadenEleChisan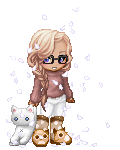 Gender: Female
Location: Somewhere over the rainbow........
Birthday: 08/16
Occupation: As of right now, student
Equipped List
Interests
Favorite Movies/Anime
Favorite TV Shows
Favorite Reads
Favorite Music/Bands
Hobbies/Interests
About
My name's Courtney.
I'm 21.
I like wine, rum, and vodka.
I love to travel.
I have two dogs.
It takes me awhile to open up to someone and I will do so on my own time. Don't smother/pressure me into trying to become friends with you off the bat.
Journal
Caden-Ele-Chisan's Journal
Roleplay topics and soon-to-be starters.
Signature
22
Loving life
I RP. Message me and we'll work something out. c:
Crush