About
I am iBismark, this username was random off the top of my head. I am a Otaku and a YouTube Commentator. I love horror and otomes. I am Canadian and almost old enough to do stuff. I like lava lamps and BillyTalent. c:
I love batman, well Robin; d**k GRAYSON. I enjoy being a freak and posting weird s**t.

Insult me in the comments!

C i t a l a i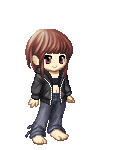 Birthday: 02/11