About

.BUTTER.SCOTCH.
Has been a Gaia member since March 4th, 2005
Old account: Killette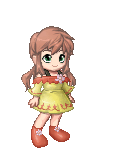 Want me to make her smile turn into a huge grin? Hee hee hee hee.
AVI ART DRAWN FOR ME
SIGNS MADE FOR ME
TEKTEKS MADE FOR ME


...it's me.

ABOUT ME


Name: Destiny
Age: 19
Sexual orientation: bisexual
Status: in a relationship since November 14 2007
Height: 5'5"
Weight: 115lbs
Eye colour: green
Hair colour: black mixed with red
Piercings: lip, ears
Tattoos: none yet
Clothing style: mostly gothic, but sometimes I wear jeans and a tshirt
Current addiction: Deadpool
Pet peeve: messes
Likes: music, anime, manga (Petshop of Horrors/Death Note, mainly), poetry (writing it and reading it), writing (stories/songs/poems mostly), drawing, painting, charcoal sketching, English literature, reading (manga/comics/poems), Beyond Birthday, L Lawliet, Death Note, vampires, blood, whips, chains, bondage, spiked chokers, striped stockings, blindfolds, big boots, buckles, nailpolish, movies (to be fair, horrors and sci-fis), death metal, sushi, summer, noodles, salad, computers, computer tech, Asian girls, Emily Strange, Wes Craven, Doom Kitty, Ruby Gloom, Jack Skellington, Johnny the Homicidal Maniac, Jhonen Vasquez, Lenore, Roman Dirge, Invader Zim, Freddy Krueger, taking midnight strolls, wearing sunglasses at night, scaring little children, sleeping, video games, strategy RPG's, RPG's, fighting games, action games (sometimes), Sony systems, Disgaea, friends (sometimes lol), the occult, smoking
Dislikes: most people, Yuffie Kisaragi (XO), yaoi lovers (-__-), obsessive fangirls, Sephiroth, bums, braggers, egotists, being forced to eat, taking the bus, being in society (most of the time), hanging around people I don't even like (don't ask why I do this), my mom (most of the time, sometimes we actually get along), my "dad", highschool (thank God I'm out), everyone who's trying to throw me an 18th birthday party (seriously guys, I don't want to go to bars or anything...), those stupid blind date reality shows, animal abusers, people who are overly religious (*cough*my mom*cough), people who can't take a joke, eggs, milk, the beach (most of the time)
Random facts about me:
- I love stuffed animals, and have a huge collection -
- I love my boyfriend more than anything -
- clowns scare me -
- my computer is my second love -
- I refuse to leave my room unless necessary -
- I love meeting new people, but I get bored fairly easily -
- I'm... independent... VERY independent -
- I act like a cat in real life and I like it -
- lounging in PJ's all day is so fun -
- I like boobs... alot -
- I have a crush on a waitress -
- cat girls are fuggin sexy -
- I own a Death Note purse, tshirt, notebook, mousepad, poster, pencil case, L figure and volume 3 of the anime -
- my walls are yellow -
- I always wanted to go to Tokyo -
- I love horror movies because of all the death scenes -
- lemonade, orange crush and cream soda are my favourite soft drinks -


Bands That PwN





- Behemoth -
- :wumpscut: -
- 36 Crazyfists -
- System of A Down -
- Killswitch Engage -
- Cradle of Filth -
- AFI -
- Emilie Autumn -
- Jack Off Jill -
- Sevendust -
- Malice Mizer -
- Dir en Grey -
- Mortiis -


CURRENT MEDIA SONG
ON/OFF - Futatsu no Kodou to Akai Tsumi
MY MSN IS
XBLEEDING_VENDETTAX@HOTMAIL.COM

OMFG I HAVE A LIFE!!?? O:


**add me on Facebook O:**

FACEBOOK - MISERIA CANTARE
PHOTOBUCKET - BURDENING_SOUL
QUIZILLA - GOTHICCHIPMUNK


Before you go, leave me a comment! O:



Friends
Viewing 12 of 46 friends
Journal
Hear the Voices Calling, Why are You Still Stalling?
Are you daring enough to take the test? The test of ultimate concience. Are you ready to write in a name? Then watch that person die on national TV. You have no choice, the book has chosen you, now go out there and do as it commands..
Multimedia
Signature
Would YOU be friends with them?
Comment me?
450/500