BunnyLadyLexi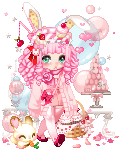 Details
Total Posts

841

Posts Per Day

0.24

Member Since

03/15/2007
Occupation

trouble marker

Gender

Female
About
HIYA!
(I HAVE A BOYFRIEND FOR Y'ALL CREEPY ! I AM LOOKING FOR COOL PEOPLE TO TALK TO AND CREATE AMAZING FRIENDSHIP!) kinda sad that I have to explain myself... Anyways!
You are now on my profile! ^.^
I am Lexi and welcome to my profile! I am 23 years old. (So STOP ASKING)
My real name is Alejandra but you can call me Lexi or Alie or Alex.
I'm a bit of nerdy one. I love anime/manga, video games, cartoons, tumblr , books, animal lover and much more. I have a ps3, psn: DeadlyAlexandria (explain that you are from gaia before you add me

).
Go ahead and feel free to add me!I am Feisty Latina lady! I'm also very blunt person, I will always speak my mind even if you don't like it!


I'm loud and crazy most of the time, but don't let that fool you! I'm a nurse in RL (Currently:Unemployed sadly ..

). I'll hope on gaia every few days, just lurking in the towns, feel free to try to find me in the shadows

.
Journal
Ai's crazy life
The life of a Vampire Doll
I have a crazy brain with its random toughts and other stuff. Want to see what goes on with me?? Check it out my journal you will learn alot.