Bunnyfish Queen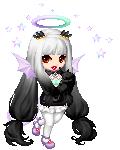 Details
Last Login

12/12/2013 8:16 pm

Total Posts

5782

Posts Per Day

2.15

Member Since

08/05/2006
Gender

Female
---
Interests
Hobbies/Interests
About
I'm not the same girl I used to be...a lot of things have changed me. Experiences I grew from. I can't really explain it, but I feel it. Most of my passions though have remained the same.
Age: Feels like I've been alive for an eternity, but that you'll have to ask for.
Main Passions: Urg Art. I love it and only look to improve. EGL, Sweet Lolita, Deco Loli, Boy Style, Punk Lolita, Hime Style, Gyaru, Cybergoth, 8o's Goth...pretty much anything with dark aesthetic or completly different I love. When I get to know someone well I am quite the comedian x3 Currently making jewlery xD! Needs a new deviantart account like soon D:< Obsessed with Taeyang atm O_o; Dating a Dominican boy = w =; He annoys me, because we are COMPLETE opposites, but I believe that attracted me as well. 1.19.09<3 Graphic Arts at City College of Technology. Yep I basically live in my school. Allstate Insurance Agent on the week, Toys r' Us worker on the weekends. I'm swampedddd @ m @ Idk how I find time for life anymore. Yep well I'm basically rambling. Anything else feel free to ask :3! Yes, I do bite.

Wants to wear this avi. again soon D:<!


Journal
BunnyFooFoo
Just somewhere to keep track of my craziness :'D
Signature

Mule of banned account Deathzshadowz
Art in siggy by me.
2omil/D.Tail