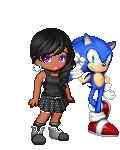 Last Login: 09/08/2015 8:50 am
Gender: Female
Birthday: 01/01
My Playlist
You currently have zero playlists!
Equipped List
Interest Tags
Favorite Movies/Anime
Favorite TV Shows
Favorite Reads
Favorite Music/Bands
Hobbies/Interests
Wish List
About
My name is Alysa. I like to sing. My favorite color is purple. I have two anoying brothers that I can't live without. I have one sister that lives in florida. I am a songwriter and musician. I play the bass guitar. I'm more fun in real life than on here.
My Aquarium
Journal
BunnyBhoo12's Journal
This journal will tell about the things I have beeen doing in Gaia.
Signature


People should just relax and let music take its course. Live Music!!