boaca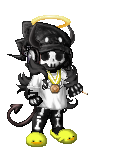 About

Innocence, In No Sense

My name is
Jimmy
, hi nice to meet you.
I have been a GaiaOnline user since 2004, and this is my second account after taking a long hiatus. US Navy veteran. I live in one of the most poverty-striken areas in America. I work as a welder at a shipyard where I build and fix tugboats and tanker & coal barges. I'm older than you. I am happily married and have one child. I like to work on cars and drink beer. The end.
Journal
Signs, Arts, Vocaroos, etc.