bndgrl1lm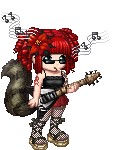 About
I'm Zell. I don't have a ton to say about myself, so you should talk to me and get to know me!
I will tell you, however, I'm a musician.
I play guitar and I play viola for the EYSO.
I will talk to absolutely anyone. I'm not stereotypical.
I love music, anime, and a hell of a lot more than that.
So you should find out! o;
Me:

~*ZELL*~[/b]
Multimedia