About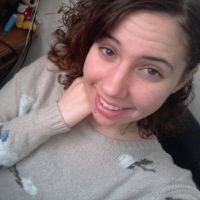 ❃
Hello world

!

My name is Rachel. c: I go by Rach or Bloomy.
❉
I am a

November

baby and I love it! I am

twenty-one

years old. :3 By the way, Scorpios rock! :D
❃
I am an sophomore at a community college and I am majoring in

Human Services

. I plan on becoming a therapist/counselor in the future. > w<
❉
I am currently

TAKEN

by a lovely guy.
❃
I am Christian. I do not force religion on others. You have your beliefs and I have my own. c:
❉
One of my favorite things to do is listen to music on my ipod. I have a 1000+ songs on it. My taste in music is all over the place! Some bands/artists that I enjoy listening to are: Flyleaf, Panic! At the Disco (best), The Police, Duran Duran, Katy Perry, Aaliyah, TLC, Krystal Meyers, DC Talk, Skillet, Linkin Park, Supercell, P!nk, Rebecca St. James & etc.
❃
I enjoy playing board/video games A LOT. :> Games that involve rpg, romance, drama, horror intrigue me. I love playing board games like: LIFE, Scrabble, Apples to Apples. I

love

playing Harvest Moon, Resident Evil, Grand Theft Auto, Atelier series, Mana Klemia, Tales of Symphonia, Pokemon, Final Fantasy, Legend of Zelda, The Sims series, among others.
❉
I totally ship these characters from Resident Evil 6: Sherry and Jake, Leon and Ada (or Helena), and Chris and Piers. <33
❃
I love to read stories on fanfiction.net about some of my fav. fandoms hehe. I enjoy reading romance novels or shoujo manga/korean manhwa. I

AM

a hopeless romantic~ <3
❉
Some of the manga I enjoy reading or have read are: Tail of the Moon (LOVE LOVED it<33), Kimi no Todoke, Kamisama Hajimemashita, Naruto, Bleach, Instant Teen: Just Add Milk!, Stepping On Roses, Fruits Basket, Ranma 1/2, The Gentleman's Alliance, B.O.D.Y., Maison Ikkoku, Love Hina, Inuyasha, Fairy Tail, Durarara!! among others.
❃
Some shows I have watched or enjoy watching are: The Walking Dead, Degrassi, ONE PIECE ALL THE WAY BRAH :D, Shaman King, Blue Exorcist, Fairy Tail, Sailor Moon, Inuyasha, Bleach, Digimon, Jersey Shore, 20/20, Ghost Adventures, Forensic Files, Bar Rescue, Family Guy, Storage Wars, River Monsters, Kamisama Kiss, Ouran High School Host Club, Black Cat, Hetalia Axis Powers, All That!, Rugrats, Eden of the East, Durarara!!, Fullmetal Alchemist, Samurai Champloo, Wolf's Rain, Naruto, Free!, Brother's Conflict, Once Upon A Time, American Horror Story, Game of Thrones, etc.
❉
I'm obsessed with playing

otome

games/visual novels. :3 They make my heart go aflutter haha. I've played: The Second Reproduction, Starry Sky~ In Spring, Hakuoki: Demon of the Fleeting Blossom (P)lanets!, Tokimeki Memorial Girl's Side Love Plus 1&2. And Dandelion of course was one of the best otomes I've ever played! Excited for future english releasings of otome games out there * u* I often frequent englishotomegames.net (it's on tumblr peeps) to look into the latest information on games. I love to research into stuff like this lol. /NERD
❃
I love Hayao Miyazaki's movies (also Studio Ghibli) and own most of his wonderful creations~ <3 I have: My Neighbor Totoro, Nausicaa: Valley of the Wind, Princess Mononoke, Whisper of the Heart, The Cat's Return, Castle in the Sky, Ponyo, Howl's Moving Castle, Kiki's Delivery Service.
❉
I like to longboarding when the sun is shining and it's warm out. :3
❃
I enjoy

ROLEPLAYING

!! : D Private message me if you're interested in rping with me please~
❉
I have a few

good

friends in my life. I'd rather have a couple good ones than many because I'm not so trusting of others. But, it doesn't mean I dislike making friends the more the merrier. :> I love talking with peeps!
❃
My favorite season is Autumn. I love the feeling of warmth it has and the bringing of family together. : ) The weather is jusstttt right~ And my birthday and Thanksgiving are included~
❉
I dislike people who lie and try to bullshit me. I'm a pretty observant person, so I know when something is up.
❃
I am in love with the ONE PIECE anime/manga series. C: I get so emotional watching it. Episode 86 made me cry. Chopper is my bby <3
❉
I forgot to mention some of my favorite movies!! So here are some: Wreck it Ralph, There's Something About Mary, Meet The Parents, Meet The Tickets, Avengers, Lord of the Rings trilogy, The Hobbit, Kikis Delivery Service, Howls Moving Castle, Castle in the Sky, Ponyo, Princess Mononoke, Spirited Away, Whisper of the Heart, The Cats Return, My Neighbor Totoro, Nausicca: Valley of the Wind, Dirty Dancing: Havana Nights, Lilo and Stitch, Tarzan, Mulan, Resident Evil, and some other ones I can't remember at the moment!
I'll include more later if need be. If you're curious about me and want to get to know me, just shoot me a private message & I'll try to reply as soon as possible!
Adios for now! :D



tumblr:

dreamingkissu


email:

chopzuzu12@gmail.com


:

D

follow me if you'd like~