bloodwitch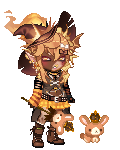 Details
Total Posts

27127

Posts Per Day

7.18

Member Since

10/20/2006
Gender

Female

Birthday

08/21
---
Interests
About
will sell soul for yaoi
/coughs. well i do like it, so feel free to send recommendations my way ;]
though plot > p0rn, js.
i read fanfics. I use to read books out of the lib, but ... fines /coughs. so interwebs reading it is. i read strange things also >//////////<"
vampires, demons, Weres, Fey, magic = <3
artsu~ why yes, i does 'em. PM or stalk me. i generally have at least one art thread out there at any given time.
i zOMG, but not so much with randoms anymore
i'm studying Computer Engineering in one of the state Uni.s
-------------------------------
Twilight - as a stand alone read, it's ok. i'm
not
a fangirl of it, and i -twitches- the idea of vampires 'sparkling' just bothers me e___e; and her writing level was ... well; i prefer a bit more sophistication. No, i have
not
seen the movies, and i dont ever plan on it.
Journal
Demented
... welcome to my world
Random things go here! We have dreams, lists, and evidently contests too.
Signature
RIP AB91 Feb 2 '12