About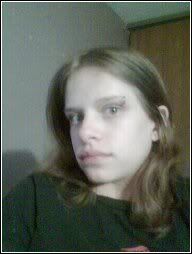 Girl and a guy were speeding over 100mph on a motorcycle.
Girl:Slow down, i'm scared.
Guy:No, this is fun.
Girl:No it's not, please, it's so scary.
Guy: Then tell me you love me.
Girl:I love you, slow down.
Guy:Now give me a big hug
*She gave him a big hug*
Guy:Can you take my helmet off & put it on yourself, It's really bothering me.
The next day in the newspaper, a motorcycle crashed into a building due to brake failure. Two people were in the crash, but only one survived. The truth was that halfway down the road the guy realized that the breaks weren't working, but he didn't want the girl to know. Instead, he had her hug him and tell him she loves him one last time. Then he had her put his helmet on so that she would live, even if it meant that he would die. If you would do the same for the person you love, copy this in your profile
about me:
Name: Matt
Age: 18
B-day: March 23rd
Status: taken by the most sweetest,kindest,nicest girl around
Fav Band: Three Days Grace
other Fav Bands: Good Charlotte, Simple Plan, Nickelback, Theory of a Deadman, Disturbed, Nine Inch Nails, Static-X, Hedley, Three Doors Down, Billy Talent, Green Day, Hoobastank, The Cure, The All-American Rejects, My Chemical Romance, System of a Down, Blink 182, Sum 41, Atreyu, Not Forgotten, Creed, Seether, Godsmack, Saliva, P.O.D., Puddle of Mudd, The Offspring
Most Hated bands: Papa Roach, Backstreet Boyz, Spice Girls, Aqua, AFI, Tool, The Pussycat dolls, Metallica
Hero: my g/f, Angel, saves my life everyday
favorite sport: wrestling
Favorite wrestler: John Cena
Fav Rapper: Eminem
Fav song: Animal I have become by Three Days Grace
thats about it for now may add some later
Friends
Viewing 12 of 47 friends
Journal
The lost book of the fallen angel
Multimedia
Signature

I'm Gonna Be A Father!