Blood Stained H3art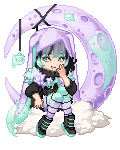 Details
Member Since

02/06/2007
Gender

Female

Birthday

08/15/1983

Website
---
Interests
Favorite Movies/Anime
Favorite TV Shows
Favorite Reads
Favorite Music/Bands
About


Ended. May 30th, 2016. Forever in my heart.
Click if you love animals!

MY ART CENTER!
I love art, Please draw me.

I'm unique. I doubt you'll ever find someone like me.
I have had my world shattered by the one I have built it around. I suppose that's what happens when it is let out of the cage... It shatters.
I have no love to give anyone else, Respect this and don't message me with a futile attempts to flirt, You will be ignored so save the energy it takes to type "Your Hot"
Unless your my Prince Charming and we are meant to be together and you can scale my wall and convince me with some hardcore evidence.
Stuff to know about me!
[s] I am taken by the most wonderful boi, he makes my life complete[/s]
Holds in her emotions
Don't try to understand me, you never will.
I am an animal rights activist.
I wanna be a doctor <333
Likes
♥ Art
♥ Music
♥ Weapons
♥ Words
♥ Rain
♥ Sitting in the dark
♥ Wonderland
♥ Victorian
♥ Lolita
♥ Gothic
♥ Black & Red
♥ Cats
My loves on GAIA
♥ Jessieomer is my wife
♥ Skyler is my baby Girl
♥ ~ Lover_Lost~ is my gay Lover
♥ Foxy-Kitsune is my Mistress
♥ Hellshatteredangelicdreams is my Lover
♥ unexistant, bigmerc88, Angel-of-Morning-Light, little_ladywolf are my bestest friends on gaia, I love them. <3
My favorite Quotes.
"Don't tell me the sky is the limit when there are footprints on the moon."
"I want power in my words, I want passion in my eyes, and when I wake up, I want life to be a surprise"
"Love is the slowest form of suicide"
"The heart always forgives, But the mind never forgets."
"Connected, our hearts beat as one, our souls yearn for each other, our bodies touch."
"Love is giving someone the power to destroy you, but trusting them not to"
Me ---> LEO
July 23 - August 23
Leo is symbolized by the lion. Your ruling planet is the Sun and your element is fire. Leo is the leader of the zodiac. While you are always willing to give, you don't like it when people ask for things. You like material goods and you desire a mate that puts you on a pedestal. You are not always easy to work with because you can be impatient and a bit bossy. You are also very direct, sometimes to a fault. Your best chances for love lie with Scorpio, Capricorn, and other Leo.
My collection of HHH Plushies
When I first saw you..
I was afraid to meet you..
When I first met you..
I was afraid to kiss you..
When I first kissed you..
I was afraid to love you..
But now that I love you..
I'm afraid to lose you...
I'm married to Jessieomer on gaia, We married on December 22/07

Friends
Viewing 12 of 65 friends
Journal
My Tormented Brain
My best pieces of work
Signature