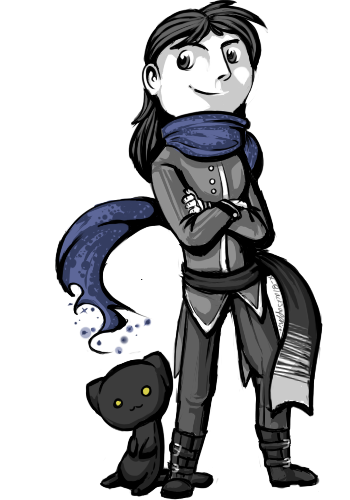 "I am the ruler of all things Useless"
(Drawn by me)
Hey this is BlackSapphire- Sapphire or Sapphy for short. If you can't tell by the list of things on the right there I love zOMG.
I bop around on some virtual petsites; feel free to chat with me about them!
My account is kinda ancient at this point but I haven't really been active. All my recent activity is due to my friend Ithi poking me about possibly doing some art for her.

Then uhm... I poked around re-found zOMG (I was past the Tutorial..THAT WAS FUN) And uh.. WELL WE CAN SEE WHERE THAT LEAD TO

I also play Rumble Kitten

Interests:

-Videogames, particularly Pokemon, Assassin's Creed, Bioshock, and

THE INTERNET


-I love art, I'm an Art Major in college. Thus, I doodle a LOT.
-I love cats, I have an orange tabby cat named Apples.
-I hate picking favorites but some movies I watched recently were The- Hobbit, Wreck-it-Ralph, and Rise of the Guardians.
-I have an eclectic taste in music. Only genre I truely despise is Rap


I dislike most Country, and some other genres I can be fairly picky about
-I read a TON of webcomics, also Red vs. Blue is hilarious.
-Roleplaying is fun but I'm not very active


I do believe that's Sapphy in a nutshell.
Oh yeah, and I speak in 3rd person sometimes, Sorry.

Semi-Old Notice:
Username used to be x_BlackSapphire_x; Changed so it matches my dA.