Blackpool in Shambles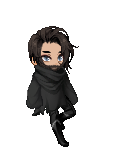 Birthday: 10/13
About
Hullo there.

I am

Erin Ryann Maddinson

I hail from the beautiful borough of Blackpool, England. I lived in various other cities such as Brighton, Manchester, and Bristol. I've been to various countries within Europe as well such as Dublin, Ireland, Oslo, Norway, Copenhagen, Denmark and Berlin, Germany. I now reside in the United States of America for college and job reasons. I'm in college for computer networking systems and applications. i work with programs and companies such as Cisco, IBM, Java, and Telco, though I'm very novice at it.



Other factoids



I am 20 years old :3
I am English and very little Welsh.
I'm lesbian/gay... whatever the balls you will it.
I have a prosthetic left foot! FEAR THE HANDICAPPED GIRL
I eat fruits. A lot of fruits.
STRAIGHT EDGE 4LYFE.
u wot m8
1v1 after you finish reading this
I'll 01000101 so hard mang. >u>..
um...just ask I guess..



DREAM AVATAR



I love the way this looks, but it's super expensive, at least for me. 300b. If you wish to help, by all means, but it is a -dream- avatar for a reason! Click to see it!