blackmetalbakuwarrior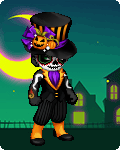 Details
Last Login

01/03/2017 6:01 pm

Member Since

07/11/2009
Location

http://www.gaiaonline.com/launch/hollywood

Gender

Male

Birthday

03/20
---
Interests
Favorite Movies/Anime
Favorite TV Shows
Favorite Reads
Favorite Music/Bands
Hobbies/Interests
About

gamer i love video game i might be 29 years old but hey i will never stop
playing video games anyway i love poetry i even have poems published on
poetry.com my poems is copy writed so is my real name and for all you haters in
the real world and in gaia dont hate me cause you aint me and dont hate the player hate the game and who ever it was that said im not a bakuwarrior and i
suck the shadow will fall on you and turn your haterism into fear you dont walk
the shadows like i can so therefore keep my name off your ashy lips with your
gay a** opinions about some one you dont know that is just a message to
haters everywhere and if you dont like it go sit on a tack.
Friends
Viewing 12 of 155 friends
Journal
Blackmetalbakuwarrior's words of wisdom
day 1 those who seek the sword will find the path of the warrior.
this is my journal you can read the words and comments are welcome.
Multimedia