About
Banned once before as ` Bitter Sweet `.
I WILL MAKE IT ALIVE ONCE AGAIN WITH THIS ACCOUNT!

Um, yeah.
Run along now and never look back.

I'm friendly, though.

And I have another three accounts;
Queertoxica
Faggotic II
Bloodee Monkee
I forgot why I made so many accounts.
:3
Multimedia
Signature
I love Kai. Reasons?
- His attitude.
- His drumming skills.
- He's pretty/adorable/cute.
And....
-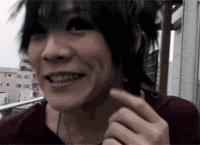 Need I say more? :3
Questing:
Coco Kitty Plushie