About
So wish me luck. This old geezer needs it
~~~~~~~~~~~~~~~~~~~~~~~~~~~~~~~~~~~~~~~~~

Something about that dude that makes me all giggly...
I would, if I could...

There has to be some kind of cocoa bean on another planet...we just haven't discovered it yet...


*sigh* Gotta love them... their music...not them, they be too old and well, ugly...

Oh no! MATH!

So don't eat them or YOU will be gay too... *nods*

So that is why I always find my sister's Elmo doll on my shelf...staring at me with those huge eyes... O_O

That is so true...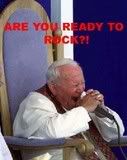 I always knew the Pope had a sense of humor!

Hehe, too true...

Rape! Plunder! Waddle?!
Friends
Viewing 12 of 25 friends
Journal
Jess's Journal.
*shrug*
Not everything I put here is important but keep an eye out for it might just get interesting^^
Multimedia
Signature
I'm too lazy to have anything interesting here