Best Thing Evahh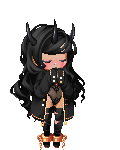 Birthday: 02/25
About

Well Hello



February 25th is when I blow out candles

i

my friends on gaia and in real life

The name is Marine but call me Mo or Momo c:



Daft Punk, Deadmau5, Justice and Cherub all the way



i love the color Baby Blue

. <3

i'm very nice and lovable (except when you annoy me)



i love the soda sprite




Mixed

(French, White, Black, Italian, Spanish and other...)
White person's personality



Meet me up in rally.

Umm...bye..