benandjerrys1111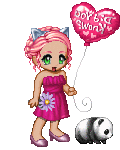 Last Login: 02/13/2011 7:55 pm
Registered: 07/30/2006
Gender: Female
Guilds
Equipped List
Wish List
Intrests
Hobbies/Interests
My Car
Signature
"Everybody! Move your feet and feel united! Oh Oh Oh!"

http://youtube.com/watch?v=Shb6-kwyfkU

AHH! The joy that is Manga and Anime!!!
Journal
My journal/diary thingie where i write about stupid stuff that is lame!!!
Hey! I promise that i will only write down the juicy stuff! Actually I was lying it's probably gonna consist of my everyday doings and borign daily hardships.
My Playlist
You currently have zero playlists!
About
Hey! I'm Sophia actually but you know benandjerrys1111 is a better representation of intrests I guess! Hmmmmm...

Name: Sophia
Status: Single! YAY!
Best Friend (on and off Gaia): Lametastic, also known as Ivy

Likes:
Movies
Anime
Manga
Lime green
Raisinets with popcorn
Ben and Jerrys Chocolate Fudge Brownie
Pins
Big sweatshirts with warm leggings

Dislikes:
Texture of Chalk
Mean people
When your hair gets stuck to your lipgloss
Pimples (ARGHHH!)
Retainers (can you guess how old I am now? lol)
Guys (i mean can they EVER mature!)
fatty meat

Favorite Movies:
Rocky Horror Picture Show
Moulin Rouge
Pokemon 2000 (havn't seen it in a million!)
Howls Moving Castle
Pretty Woman (Julia Roberts!)
Interview with a Vampire
Romy and Michelle's

Favorite Bands:
No Doubt
The Postal Service
Kaiser Chiefs
Black Eyed Peas
Some Eve 6
The Flaming Lips
Madonna
Ben Folds
The Vengaboys (lol)
Beck
The Doors
Ayumi Hamasaki
Puffi AmiYumi

Favorite Books:
Harry Potter
Wicked
Da Vinchi Code
Stuff by Meg Cabot (I know girly)
So this is Love

Favorite Manga/Anime:
Fruits Basket
Fushigi Yugi Genbu Kaiden
Inuyasha
Ranma
Kill Me Kiss Me
DN Angel
Tokyo Mew Mew
Sailor Moon
Ah! My Goddess
Love Hina
Pita Ten
Marmalade Boy
Kodocha
Avatar: The Last Airbender
Outlaw Star

Favorite TV Shows:
HOUSE M.D.!!!!!!!
America's Next Top Model
Project Runway
So You Think You Can Dance
American Idol
Lost
Smallville
Gilmore Girls