AXUS IV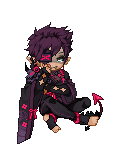 Last Login: 09/14/2016 9:59 pm
Registered: 05/04/2011
Birthday: 11/20
Equipped List
Interest Tags
Favorite Movies/Anime
Favorite TV Shows
Favorite Reads
Favorite Music/Bands
Wish List
About
Hey you. I'm pretty nice, but sometimes s**t just gets annoying. I have an interest in the dramatic, theatrical, and artisiness... That's not a word lol... Anyways feel free to chat it up with me c:
Journal
RISEN QUEST 2014
My Journey of the Risen Quest!
Signature
Through the distorted lens I found the cure.
INFECTED BY AIDA