AWKWARD-NINJA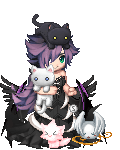 Last Login: 12/12/2014 5:37 pm
Registered: 04/09/2006
Gender: Female
Birthday: 06/29/1992
Equipped List
Interest Tags
Favorite Movies/Anime
Favorite Reads
Wish List
About
Well hello, My name is..... Just call me Awkie thanks. Anyways Hello all who may witness my profile I Just updated my profile to look a little bit more beautiful.

Thank you all for visiting and please leave a donation or if you draw art please message me!
Journal
Check it out
Now now my story The line between Heaven and Earth is still up so please check it out! Also I am into my little Avi Art thing so the Avi art i bought is on display as well!
Signature
i just freaking want a Coco or Kiki kitty
Member since 06
Seriously can someone trade me one
wont ever be enough/ a gazzillion gold
^^My coco and kiki quest bar