Please don't stalk me...
I don't ask for much...
I-i don't stalk these people! What are you talking about??
This is only a little bit of what I like... I'm too lazy to tell it all
Favorite Movies/Anime
Favorite TV Shows
Favorite Music/Bands
It lies! I post more than that!
Posts per Day: 0.26
Total Posts: 607
Austin Akuma and His Lovely Fiancѐ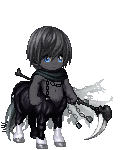 Birthday: 01/03
Behold the Amazing... Thing that's at the end of all my posts...
YOU'RE GOING TO
LOVE

ME!!