About
Name
: Anonymous....but only sort of/kind of/maybe.
Nicks
: Auryon, Mythmaker, Solace
Age
: NO LONGER AVAILABLE. Please ask accordingly.
B-Day
: March. 14th
Height
: 5'6"
Occupation
: Writer/Artist/Singer
Fav. Film
: At the moment, Coraline
Fav. Book
: ...can't list them all here. No seriously. You'd die of boredom.
Fav. Characters (from book, TV, cartoon, etc.)
: Remus Lupin, Crowley, Granny Weatherwax, Sam Manson, John Constantine, Harry Dresden, Danny Fenton (alias Danny Phantom), Edward-Al Elric, Dean-Sam Winchester, Dr. Temperance 'Bones' Brennan, Dr. Greg House, Prof. Charlie Eppes, Agent Aloysius X. L. Pendergast, Faramir, Lucy-Edmund Pevensie, Kaito Kuroba (alias Kaitou KID), Dark-Daisuke Niwa, Ryouga Hibiki, Duo Maxwell (but all the Gundam boys hold my heart), Toph Bei Fong, Shawn Spencer, River Tam, Kaywinnit Lee "Kaylee" Fry, Abby Sciuto, Raven, Fox Mulder, Arnold/Helga Pataki, Shinichi Kudo (alias Conan Edogawa), Heiji Hattori, Hakuba Saguru, Dr. Daniel Jackson, Hikaru Shindou, Earl Ciel Phantomhive, Ichigo Kurosaki, Rikuo Nura, Haruhi Fujioka, Allen Walker, Coraline Jones, Death, Dream, Percy Jackson, Ford Prefect, Alia Atreides. ...So far...
Fav. Colour/Shade:
Black
Fav. Theme:
Fantasy/Futuristic
Friends
Viewing 9 of 9 friends
Multimedia
Signature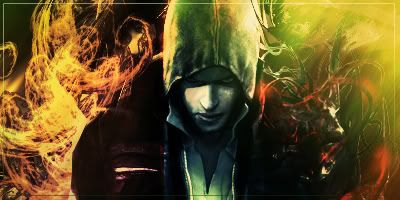 "Whom the gods would destroy, they first make mad with power."
~Charles A. Beard