Aurianeh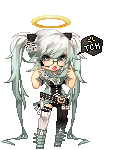 Details
Member Since

01/05/2005
Birthday

05/17/1991
---
Interests
About
Yup. You've found me. Lacey here. Or Lala. Or Auri. Whatever you know me by.

If you've come in search for art, I'm afraid I'm not available any longer. I've had a massive drop in interest for the website and merely stick around for a few selected people. However, if you wish to, you may PM me about RLC's but do say so in the title.

I'm also not interested in joining anymore role plays or forums, so I wouldn't waste your time with sending the links or advertising to me.

If you've come looking for a heart to steal, I'm afraid mine's not available to anyone. I'm just not interested so give it up and move along. And just so everyone is clear, please

do not

mistake my kindness for any sort of feelings. I'm just motherly by nature and care deeply for my friends.

Don't ask me to stay when I desire to go. Don't ask me for free art or my items. Don't ask me for my number. You'll get instantly ignored. I am a bird by nature and go wherever I please.

That is all. Bai. c:
Journal
Doot.. oO
RAWR! >D
Multimedia
Signature





ℰη✔ƴ.


Quand je marche dans la rue
La rue vers le Sacré-Cœur
Je me souviens des promesses
Au nom de l'amour
Je vais t'attendre là
Viendras-tu pour moi?