ATh e a r t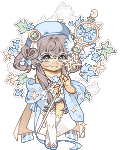 About
Name
Heart, @<3, <3
Birthdate
Feb. 8th
Sex
Female
Current Location
Cali, USA
Married 01/16/16 to the love of my life <3
Our first dance as Husband and Wife was to Meghan Trainor - Like I'm Gonna Lose You ft. John Legend.
On Gaia, I hang out with my buddies in the Breedables section.
I love drawing on Soquili and sometimes art of my own <3
I like to buy avatar art sometimes. The one on this profile is done by
Elskei
.
<3
Journal
[+Night*Sky+]
Just Some Stuff ^^~
Signature


Heart is: Brought home a sibling cat for Luna, adjusting at the moment! Still around and trying tho <3