About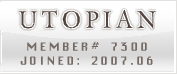 Allo!
My name is AstronomyGirl, but you can call me AG for short.

I'm 26 years old and I'm now finished university. I have a masters in Astronomy and Planetary Science.

I've been on Gaia for a long while now. (Over 9 years.) I'm online pretty much everyday. What I'm up to changes, though you can always find me around my quest and charity threads.

So, here is a little about me:
- I

astronomy! ^_^ (that's how I got my name)
- I

Pandas! They're my favourite animal.
- My favourite movies are: The Matrix, How To Deal and Contact.
- My favourite book is The Giver by Lois Lowry.
- My favourite games are: the Kingdom Hearts Series, Phantasy Star Online (PSO), the Final Fantasy series and the Pokemon series. Some would say I'm a gamer girl.
-I like playing D&D and I love elves. Clerics, rogues and rangers are my favourite classes.
- Some of the bands/artists I like are: Great Big Sea, Josh Groban, S Club 7, Savage Garden.

Later,


*Shoot for the moon. Even if you miss you'll land among stars!*
Friends
Viewing 12 of 28 friends
Journal
AstronomyGirl's Journal
Where I store posts that I've made on forum and guild boards so that I have easy reference to them later.
Signature



Reaching for the stars! Quest & Charity
Currently giving away monthly collectable letters. Click to learn more!

BUMP HERE IF I GLOW. (Reply box)