Ⓐⓡⓣⓘⓢⓣⓘⓒ Ⓑⓐⓒⓚⓖⓡⓞⓤⓝⓓ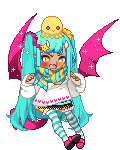 Birthday: 07/09
Signature
Hi I draw
DA



Be a fan?

╔══════════════╗
►Hello◄


My name is Shannon.
You can check out the link for my DA to the left,
you can see my art there.
I'm always accepting commissions so don't be afraid to ask.
I also have an art auction where you can bid for fullbody art~!
Shoot me a pm if you wanna know anything else.

Thanks for visiting.
╚══════════════╝