My Playlist
You currently have zero playlists!
My Hangout Space!
Artashir Bones Martel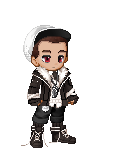 Birthday: 12/09
Equipped List
Interest Tags
Favorite Movies/Anime
Favorite TV Shows
Favorite Reads
Favorite Music/Bands
Hobbies/Interests
About
My Name is Ian. I think of myself as a relaxed person who likes to dress formally. I find myself being a very frequent watcher of most things anime. In my opinion Cartoons have gone off the wall retarded. I've grown up a lot more since my last about me, so there's a lot of self-evaluation I have to go through to explain myself. I'll have to get back to you. Just know I'm chill.
Signature