About
Konnichiwa, or Kobanwa, or Ohiyo... (whenever yiou come here)






I am Areku...

I love to write fanfics! You can read my stuff on:
1) animepiral.com Penname: Areku_Kawaii
2) Fanfiction.net Penname: ArekuKawaii

On animespiral I have all my old stuff... They are also rather funny. So if you want a laugh check those out. I while update on that sight every so often.
On Fanfiction I have a yaoi story that I am working on, and a few yaoi/ shounen-ai shorts. I love to write FMA and Inuyasha fanfics. I also like Fruits Basket. Well, that is all I have posted. I have written many others with other animes that I haven't posted yet.




Currently I want a Coco!

I really love yaoi...
Gravitation, Sukisyo and Loveless are my faves right now. But I know and love many others too.





Animes/mangas I like are...
Inuyasha (I liked it before it got all favored by everyone ok!), Chrono Crusade, Gundam Seed, Fruits Basket, FMA, Full Moon, S-cry-ed, Fushigi Yuugi, Ayashi No Ceres, Prince of Tennis... (Do you want me to go on? I could probably name like hundreds more.)





I wear glasses! *gasp*
I want to dye my hair... and I have the urge to get another peircing. (It's not good when I say either of those...)
I currenlty have 5 peircings (All on my ears mind you, my mom won't let me peirce anything else) But I want my belly button peirded. So I will bug her again in the summer when she said she'd think about it.
I have also dyed my hair many times... I've had blonde, blue, browns, blacks, purple, green (that was an accident), orange, red, pink, five colours at the same time...and so on and so on...

I'm Canadian...

My birthday is on July 28!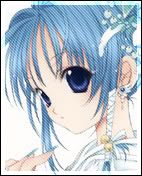 What else would you want to know about me?

Well, that is all for now... Until I get bored again someday!



That sorta looks like me... Glasses, messy black hair. Yup... almost...
(That was me years ago...HA!)

If you're my friend and you want my msn... Just PM me...


Random PM's: 62!
Does anyone remember Fighting Foodons?
Comment or PM me if you do!
Friends
Viewing 12 of 39 friends
Journal
The Artist of Written Words corner...
The vibrant colours of my artistic skill hurts your eyes!
Multimedia