AppleBella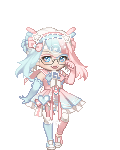 Last Login: 11/13/2016 10:39 pm
Registered: 09/12/2009
Gender: Female
Location: Littleroot, Hoenn
Birthday: 06/20/1992
Occupation: Pokémon Champion
Gamer for 1UP!
Ello, my fellow Gaians!
My name is Kiersten!
And I love Marcus!
~31,Aug.13~

Time to learn me:
My name is pronounced KEER-STEN
My other alias is SpazRelleum
I also like the name MālumLilium (AppleLily)
But you can call me Pink Lady, or whatever you want!
By the way, I love apples
Member of Gaia since 04/21/2007
Sexual orientation: Pansexual
Religious views: Agnostic
As you can probably tell, I'm happily taken
I live in an apartment with my boyfriend and our kitten
I love Pokémon and my favorite is Vaporeon
My favorite Pokémon type is Water
I love swimming and boating
I want to be a marine biologist
My height is 5'3"
And my hair is currently down to my hips!

Here comes the nerd-out:
My favorite anime is Fullmetal Alchemist! I also like Guilty Crown, Sword Art Online, Angel Beats, Seven Deadly Sins, Blue Exorcist, Elfen Lied. I'm not going to get into all the anime I like. There's way too many.
Same with video games! Way too many to list. But I LOVE Pokémon and The Legend of Zelda! I also like Kingdom Hearts, Sword Art Online, Odin Sphere, (Leifthrasir) Hyperdimension Neptunia, and Rune Factory. I am mainly into playing my (Pikachu edition) 3DS, PS Vita, Wii U, and PS4 right now. Only the good stuff.
System Of A Down is my favorite band! I also really like Shinedown, Rise Against, Three Days Grace, Evanescence, Nightwish, and The Birthday Massacre. That list could also go on and on.
My favorite animal is the otter! Specifically the oriental small-clawed otter!
And as for my personality, I'm bashful and not very social, until you get to know me! I'm hyper, extremely talkative, and weird. In a good way! I'm a Spaz!
~~~~~~~~~~~~~~~~~~~~~~~~~~~~~~~~~~~~~~~~~~~~~~~~~~~~