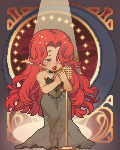 Birthday: 01/06
Occupation: Student
hey there,
i'm a junior in highschool and my name is aoki..
one thing you must know is that i am a

huge

fan of novellas.
I like to eat asian delicacies, and danish.
I am 'allergic' to full chocolate and can't stand the sight of it. literally.
Nice hair makes me happy and cute things cause me to hyperventilate. lol not
I also can't seem to stop writing nor listening to different genre of music . ( most importantly hmong/viet music!)
When I go into college, I hope to study abroad and learn about various cultures.
I would love it if you could recommend me some korean dramas to watch. I can't seem to find any other good ones after Stairway to Heaven which was two years ago. :'<
I have no problem with random friend requests though I hope I at least met you through somewhere or someone.
kthx!