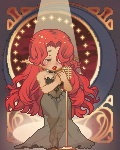 Birthday: 01/06
Occupation: Student

❀ f l o w e r _ b o y ❀
hi, princess!
you can call me vanessa
i live in ca and i'm a girl
i love my danish and milk.
music is life.
i know spanish + some italian, hmong, chinese, and vietnamese but mostly spanish.
i'm no writer, but check out my work here ~
january 6 is my birffday so surprise me, maybe
did i mention i like art?
'cause I do.
draw meeee *u * ?