About










Full Name:

Anriazna Magenia Valentine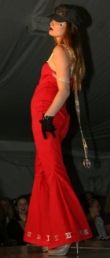 Age:

23


D.O.B.

July 18, 1989


Eye Color:

Yellow-Hazel


Hair Color:

Dark Dirty Ash Blonde


Sign:

Cancer / Snake


Nationality:

Scottish-Irish-Polish-German-American


Languages I speak:

English, French, German, and Japanese


Occupation:

Baker's Assistant


Favorite Colors:

green and purple


Favorite Music Genre:

Christian Rock and Country


Favorite Instrumental Song:

Farewell by Apocalyptica


Favorite Vocal Song:

Carol of the Bells

Political Stance:

Republican


Religion:

Protestant


Gender:

Female


Great likes:

DDR, Oblivion, Final Fantasy, Morrowind, Fable, video games for that matter, Rurouni Kenshin, Harry Potter, dogs (especially wolf dogs), dancing, singing, and chocolate.


Gaia Town Neighborhood:

001549-2


Favorite Gaian Item (that I have):

Winter Rose



Favorite Gaian Item (that I don't have):

Angelic Sash!

(followed by the Angelic Pendant of course)


Favorite Holiday:

I like decorating for Christmas but I think Halloween is a lot of fun in itself.


Things I will tell/give you:

Eh...I'm pretty open...depends on how much I like you.


Things I will NOT tell/give you:

my password, my mules and my stuff - so quit askin'!

(I MAY give you things though if you don't ask at all)











Words of Wisdom:


"You can complain because roses have thorns, or you can rejoice because thorns have roses."
"Impossible is not a word; it's just a reason for someone not to try."
"God so loved

you

, He gave His one and only son so that through Him, you may have everlasting life."
"Every saint has a past; every sinner has a future."
"I can do all things through Christ who strenghtens me."
"Don't judge me by my past. I don't live there anymore."
"Smile. God loves you."







thank you kage-ookami4

Journal
Mokey's Journal
Hilo everyone! In this journal I just post random things that I'm hoping will keep you entertained. I don't want to bore you with all that "so then I went to school and..." and all that stuff. ^_^ By the way, you can call me Cas
Multimedia
Signature